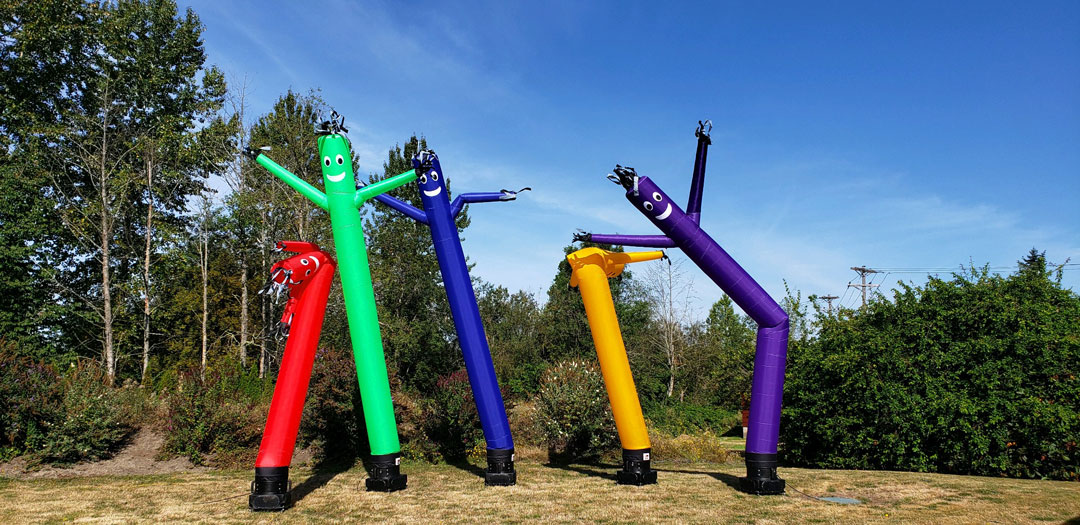 We just launched WavyGuys.com and WavyGuys.ca and with it the best dancing inflatable product in the market. Why are they better than the generic ones you ask? Well, let me tell you!
Why our WavyGuys™ branded inflatable tube man are better than cheap imports:
MORE IMPACT, SIMPLE INSTALLATION, BETTER FABRIC, BETTER BLOWER and BETTER PRINTING!
More Impact:
Yes, we agree, they are funny with their bright colours and smooth dance moves, but man DO THEY EVER DELIVER!!!. Dollar-for-dollar, these guys will set more eyes on your shop and more feet in your retail space than any alternative. Use them for special events, just for weekends, or simply all the time! Get the original WavyGuys™ design for long lasting, budget friendly, impactful performance that puts the cash back in cash register. They look similar to Air Dancers and Sky Dancers, or inflatable tube men out there, but they will outperform generic models at all times.
Simple Installation:
Simply attache the fabric to the B-Air BB-3 blower using the Velcro sewn in strips. Plug in the blower, and your are in business.

Better Fabric:
Our Material, No-Tear Poly Nylon, with a base of strong tarpaulin at the bottom, outperforms cheap ripstop nylon, last longer, won't fall apart hours after installation, 90-day warranty on manufacturing flaws and errors. Smoother Fabric results in 'Better Dance Moves', ours simply move nicer

Better Blower:
Our blower comes STANDARD as a weather resistant blower, it is engineered to perform and C-ETL certified so you can use it safely through North-America. Our BB-3 B-Air blower is the leading blower in the marketing by the leading blower brand. One year warranty on manufacturing errors with the manufacturer B-Air.

Better Printing:
Our custom WavyGuys™ are sublimation printed. This means the ink is burned into the fabric.
No scratches, no marks, eye-popping colors, and unlimited artwork and colors.

Better Company:
We are the manufacturer of the Original WavyGuys™. Our products are designed to work for you.
In business since 2004, we are a market leader in Event Marketing Products.
Come visit us at our offices in Tacoma, WA or Stratford, ON.

Best Buy in the Market:
It is the best deal in the market, the best fabric, the best blower, straight from the manufacturer. Order today and start boosting your business.

ORDER BEFORE SEPTEMBER 14 AND ENJOY FREE SHIPPING THROUGHOUT MAINLAND CANADA

ADD A CUSTOM SINGLE SIDED 6.5 FT FEATHER FLAG WITH STAKE FOR $99.-
FOR US ORDERS, CLICK HERE:
FOR CANADIAN ORDERS, CLICK HERE: